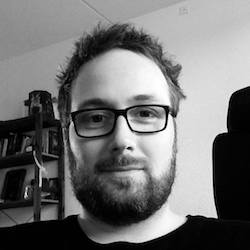 Hi Andreas,
Welcome to Crone & Co! We have been looking forward to you starting at the office. We just a have a couple of questions, you know, just to break the ice so everyone can get to know you. 
Thanks for the warm welcome. I am looking forward to getting started.
What in your work life gets you excited? 
The opportunity to summarize extensive projects in sharp presentations gets me pretty excited. At the same time, I love presentations that don't just use text, but are also visually stimulating.
When was the last time you laughed so hard, you cried – and what did you laugh about? 
Lately I've been listening to podcasts and a couple of weeks ago I listened to the episode "Something Only I Can See" (This American Life). The episode tells the story of a comedian and her mother-in-law. The mother-in-law has come up with this joke that is only funny to herself, but she laughs so much that it gets really contagious. It's hard to explain so you understand, but I can recommend this episode to everyone. I'm smiling just thinking about it again.
If you were a super hero who would you be and why?
Actually I would love to have bits and pieces from all of them. But if I have to choose I'd probably want to be Batman. He doesn't have any supernatural powers, but he has the coolest gadgets and a pretty OK physique. I love cool gadgets!
What are your "Special Super Hero Skills"? 
I'm good at reading people and putting myself in their shoes. I think that's a valuable skills that sometimes gets overlooked in a hectic environment. I'm also good at creating order in chaos. My plan may not be kept all the way through, but I always make my deadlines.
Where and how do your recharge your own batteries? 
I recharge my batteries at home – either by gaming or playing the guitar. Both activities allow me to detach from reality and that's what I need to recharge. I also love traveling which is the ultimate reset-button for me. I'd love to travel more than I do.
Awesome, the ice has been broken and we totally approve of Batman's gadgets and physique. Thanks for playing and once again – welcome to the team! We are very excited to work with you!